Index of Articles


Index of Perspectives


Next Article

As The Rain Gods Failed
Omkar Goswami
A democratically elected new government traditionally enjoys a six month honeymoon with the electorate. People hope for the best; good news is loudly cheered; and we are all willing to treat some early reversals as natural hiccups of a new administration. Nobody, except members of the opposition, wish to be party poopers.
Since I donít belong to the opposition and wish this government well, I feel terrible being a harbinger of bad news. Unfortunately, the facts are staring so hard in the face that they can no longer be brushed aside. The long and short of it is that, despite the welcome rain in North India on Sunday night and parts of Monday, we are having a terrible monsoon ó and it could substantially reduce GDP growth for 2004-05.
Optimists might argue that the monsoon has not been as poor as in 2002. To an extent, it is true. During the period 1 June to 31 July 2002, as many as 26 of the 36 meteorological zones of India had deficient (20 per cent to 59 per cent less than normal) or scanty (60 percent to 99 per cent less) rainfall. In contrast, the period 1 June to 28 July 2004 has seen 17 regions suffering from scanty or deficient rain. This statistic, however, conceals more than it reveals. As the Chart A shows, barring Bihar, Eastern UP and Coastal Andhra Pradesh, every major agricultural belt of India has had deficient rainfall. Bihar, of course, is in the throes of terrible floods; so its excess rainfall will not translate to a better kharif crop.
Anyone familiar with agriculture will testify that even if there is a 20 per cent shortfall in precipitation in June and July, the first crop of the agricultural season has to be written off. Thatís what is happening in Western UP (where the rains have been 52 per cent short), Haryana (less by 59 per cent), Punjab (down by 50 per cent), the oil seed cultivation belt in Western Madhya Pradesh, Gujarat and Saurashtra (40, 41 and 44 per cent below normal, respectively), Vidarbha (34 per cent less rains) and Kerala (27 per cent short). Even the fruit belt is affected: Himachal has had 53 per cent less rain than normal.
Therefore, both food and non-food agricultural output should be substantially lower than what they were in 2003-04. Chart B shows how agricultural output growth swings like a yo-yo from year to year. Every single growth peak since 1994-95 has been followed by at least one trough. With the present state of rains, it would fair to guess that the growth in agricultural output will be at best flat, or more realistically be in the negative zone of -2 to -3 per cent.
What might that mean for overall GDP growth? Iím afraid, the numbers donít look flattering. Agriculture accounts for around 23 per cent of GDP; industry 26 per cent; and services approximately 51 per cent. In 2004-05, it looks as if agricultureís contribution to GDP growth will range somewhere between zero and -0.7 percentage points. Without the income impetus from agriculture, I donít expect the industrial sector to grow at much more than 6 per cent to 6.3 per cent. Therefore, industryís contribution to GDP growth will be around 1.6 percent points. Even if services continues to grow at 8 per cent, Indiaís GDP growth for 2004-05 looks like being in the range of 4.9 per cent to 5.2 per cent. That would be quite a bit less than the 8.2 per cent achieved in 2003-04.
Let me emphasise that these are early estimates. Indeed, I will be delighted to be proven wrong and eventually see a much faster growth of the economy. Moreover, increasing the size of the real economy by 5 per cent after a growth of 8.2 per cent is not something to be denigrated. Nevertheless, it is time to sound a warning note ó namely, that we need to be prepared for 5 per cent or less growth for this year.
If the state administrations get cracking, the government can ensure that enough food grains reach the poor in drought affected areas such as Rajasthan, Kutch, Vidarbha, Telegana, parts of Rayalseema and some pockets in Maharashtra, Karnataka and Kerala. At over 75 million metric tons, we certainly have more than enough stock of cereals in various sheds scattered across India ó and it should be the prime managerial responsibility of the central and state governments to ensure that food actually reaches those below poverty line. Indeed, this should be an acid test of the efficacy of the new government.
There could, however, be problems on two fronts: inflation and the exchequer. WPI-based inflation is already above 6 per cent; a severely short crop can make it rise by another 1-1.5 percentage points. On the fiscal side, there can easily be an increase in expenditure because of the drought. More important, if poor agricultural output translates to lower demand for industrial products ó which is usually the case ó then the government might have to take a hit on its revenues, especially excise and corporate tax collections. Besides, lower GDP growth can raise the fiscal and revenue deficit ratios because of the denominator effect.
Once again, I want to be proven wrong. I want the country to grow at 6.5 per cent in 2004-05. But Iíd rather be prepared for the worst ó especially when the facts are the way they are. This year may well be the new governmentís baptism by fire.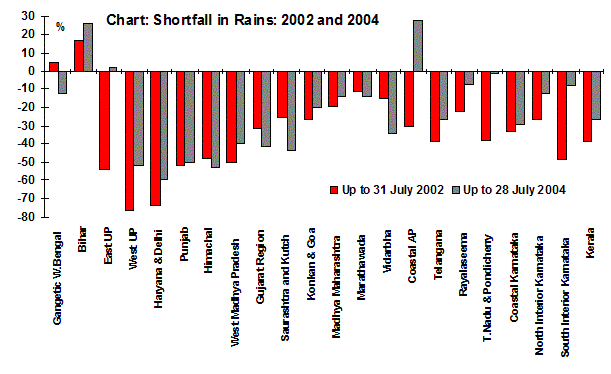 Published: Financial Express, August 2004